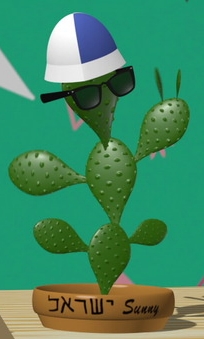 Sunny Israel is a dancing cactus in a pot that appears inKnick Knack. It wears sunglasses and a beach hat.
It is difficult to tell that it comes from Israel, since the country's name is written in Hebrew on the base. However, it was confirmed to be Israel in the short's commentary.
Ad blocker interference detected!
Wikia is a free-to-use site that makes money from advertising. We have a modified experience for viewers using ad blockers

Wikia is not accessible if you've made further modifications. Remove the custom ad blocker rule(s) and the page will load as expected.