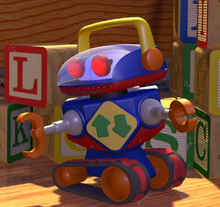 Robot
 is a red and blue educational robot toy that appeared in the 
Toy Story
series. He is shown to be good friends with Snake, as they're always seen together. Robot is also known to be good with building blocks. He and Snake appear to be acquainted if not friends with Mr. Potato Head, Hamm, Rex, and Slinky, as they are usually seen sitting with them during meetings and sharing space to sleep on the bookshelf.
Ad blocker interference detected!
Wikia is a free-to-use site that makes money from advertising. We have a modified experience for viewers using ad blockers

Wikia is not accessible if you've made further modifications. Remove the custom ad blocker rule(s) and the page will load as expected.