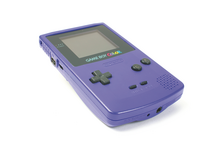 The Game Boy Color (ゲームボーイカラー Gēmu Bōi Karā?), referred to as GBC, is a handheld game consolemanufactured by Nintendo. It was released on October 21, 1998 in Japan[7] and was released in November of the same year in international markets. It is the successor of the Game Boy.
The Game Boy Color, as suggested by the name, features a color screen, but no backlight. It is slightly thicker and taller than the Game Boy Pocket, which is a redesigned Game Boy released in 1996. As with the original Game Boy, it has a custom 8-bit processor somewhat related to a Zilog Z80 central processing unit (CPU).[8] The original name - with its American English spelling of "color" - remained unchanged even in markets where "colour" was the accepted English spelling.
While mostly retaining the same hardware as the original Game Boy, the Game Boy Color's primary competitors were the much more advanced Neo Geo Pocket by SNK and the WonderSwan by Bandai (released in Japan only), though the Game Boy Color outsold these by a huge margin. The Game Boy and Game Boy Color combined have sold 118.69 million units worldwide.[1][2] It was discontinued in 2003, shortly after the release of the Game Boy Advance SP.
List of Pixar Video Games
Edit
A Bug's Life
Toy Story 2
Buzz Lightyear Of Star Command
Toy Story Racer
Monsters Inc
Ad blocker interference detected!
Wikia is a free-to-use site that makes money from advertising. We have a modified experience for viewers using ad blockers

Wikia is not accessible if you've made further modifications. Remove the custom ad blocker rule(s) and the page will load as expected.