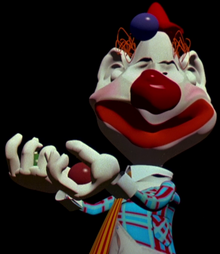 Lumpy the Clown is the secondary character of Red's Dream. He is a clown who is seen in Red the unicycle's dream of being in a circus. In the dream, he sits on Red and juggles blue, green and red balls.
TriviaEdit
Edit
Lumpy the Clown was Pixar's first organic character.
According to the site eegs.com, Lumpy inadvertently shows the middle finger, as if it were a mistake. Other sites say it is a subliminal message, which is completely different from the Pixar standard of quality, especially because the character himself has a mission to be funny, not satanic.
Lumpy appears in a cameo in Toy Story 2 on the television screen.
Lumpy is the first human ever to be seen in a Pixar film, however, he is not the first human to be seen in a Pixar feature-length film. This title is held by Andy Davis.
Ad blocker interference detected!
Wikia is a free-to-use site that makes money from advertising. We have a modified experience for viewers using ad blockers

Wikia is not accessible if you've made further modifications. Remove the custom ad blocker rule(s) and the page will load as expected.