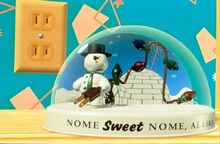 Knick is the star of Knick Knack. He is a snowman who tries to get out of the snow globe to join the party of other knick-knacks. Knick is the official name of the character, as said by John Lasseter in the short's commentaries from the Finding Nemo and Pixar Short Films Collection DVDs.
Knick appears as one of the Davis' ornaments in the Toy Story Animated Storybook PC game.
When Hamm is clicking through channels in Toy Story 2, Knick can be seen twice on the TV.
Knick appears in his snow globe inside Lizzie's shop in Cars. However, he is not car-ified.
His snow globe appears in WALL-E.
He appears inside his snow globe at the very beginning of Toy Story That Time Forgot.