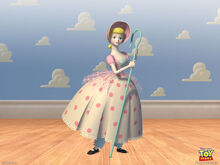 "What would you say if I get someone else to watch the sheep tonight?"
―Bo Peep to Woody
Bo Peep is a supporting character in the 1995 and 1999 moviesToy Story and Toy Story 2 and a background character in their2010 sequel Toy Story 3. She is a porcelain shepherdess figurine from the Toy Story franchise and Sheriff Woody's girlfriend in the films. Bo Peep and her sheep are adornments of Molly's bedside lamp.
Video Games
Edit
Toy Story Animated Storybook (PC)
Toy Story Activity Center (PC)
Toy Story 2: Buzz Lightyear To The Rescue (Ultra64, PlayStation, DreamCast, Gameboy Colour, PC)
Buzz Lightyear's 1st Grade Learning (PC)
Buzz Lightyear's 2nd Grade Learning (PC)
Toy Story Racer (PlayStation, Gameboy Colour)
Meteos: Disney Magic (NDS)
Toy Story Mania (Wii, PS3, X360, PC, iOS)
Toy Story 3 (Wii, PS2, PS3, X360, NDS, PSP, PC, iOS)
Disney Magic Kingdoms (iOS, Android)
Disney Crossy Road (iOS, Android)
Ad blocker interference detected!
Wikia is a free-to-use site that makes money from advertising. We have a modified experience for viewers using ad blockers

Wikia is not accessible if you've made further modifications. Remove the custom ad blocker rule(s) and the page will load as expected.